The Furness and South Lakeland Group, including the group itself, have achieved Grand Patronage status for the Masonic Charitable Foundation 2021 Festival, despite the coronavirus pandemic!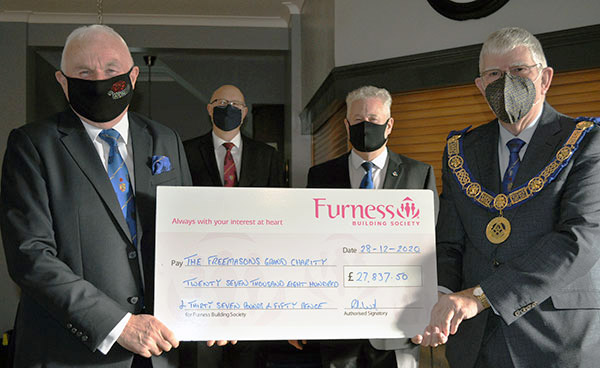 Early rumours of a four–year Festival began to circulate in 2016. This allowed the group to prepare and advise lodges and chapters for the forthcoming 'challenge'. In addition, the group also began to formulate a plan to assist and support all the brethren and companions to achieve the maximum benefit for their lodges and chapters and ultimately, the Festival.
The Masonic Charitable Foundation 2021 Festival became the focus of the group charity initiatives and events. Other worthy charity causes however, both Masonic and non-Masonic, were not overlooked and were serviced on their merit via the group charity account.
The group introduced its plan of a 'matched funding scheme', which was not intended to be a 'like for like' scheme, but something that would, via the group charity account, assist the lodges and chapters towards their Festival patronage, by fairly distributing funds obtained by the staging of charity events and other initiatives.
The early preparation and planning, alongside the matched funding scheme, provided the group with Grand Patronage and a firm platform for the lodges and chapters to begin their own organisation of the next four years.
Overall, the matched funding scheme support for the lodges and chapters totalled £27,837.50 via the group charity account.
To enable the matched funding scheme to be an obvious success, a varied and wide range of events and other initiatives were staged over four years. The group charity calendar for each year of the Festival, was extremely busy, verging on the 'hectic'! The plan was an unqualified success, thoroughly enjoyable – with a positive outcome and served in uniting brethren and companions in a common cause.
Masonry at its best!