Over the past four weeks the members of Chorley and Leyland Group have been donating to several very worthy causes based in the Chorley area; the Storehouse Foodbank project at the Living Waters Church in Chorley, the Leyland Food Bank at St Mary's Church and the Wade Hall Community Association in Leyland.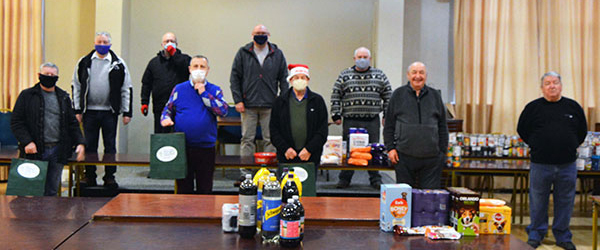 The response to all three of these causes has been truly overwhelming and a big thank you should go to all who contributed in any way. These donations will make a big difference to a lot of people who are less fortunate than ourselves.
The food donated in aid of The Storehouse Project amounted to an impressive 4,800 plus items including food and toiletries; the tinned food alone accounting for nearly half of the total and weighed in at an estimated one tonne. This was all collected and stored in the main room at Chorley Masonic Hall and on Saturday morning 12 December around 15 volunteers from the Chorley and Leyland Group and a further nine from the church made short work of packing, transporting and unpacking more than 70 crates full of items at the Living Waters Church from where the food bank operates.
The staff and volunteers at the Storehouse were pleasantly surprised at the sheer volume of items donated and the manager said that this contribution will make a very significant difference to the people and families who depend on the foodbank, which was established nine years ago and has grown and adapted to meet the ever-increasing demand, especially this year with the onset of COVID-19.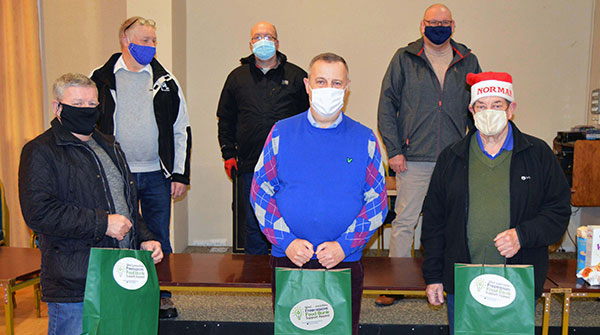 Currently the food bank is providing between 55 and 60 families per week with vital supplies of between three and six bags of food, a number they can see increasing as the pandemic continues to impact on society. As for the seasonal items which have been donated, these will go towards around 550 Christmas parcels which contain food and treats for children which they are providing for families in the community.
On the day after, Sunday 13 December, the group chairman Peter Lockett and charity steward Jeff Lucas met Leyland Food Bank Co-ordinator Celia Neill to hand over a cheque for £3,000. Through their collective efforts, lodge members have helped the foodbank to continue its work assisting some of the most vulnerable in the Leyland community.
The foodbank is run from St Marys Priory in Broadfield Drive, Leyland and supported by volunteers of all denominations, and even some of no faith. They now have a client base of over 200 people, some single, some families, some working on low wages, others relying on benefits. Some clients visit weekly, whilst others come occasionally as the need arises. They regularly give between 120 and 140 bags of food to 80 to 100 clients weekly.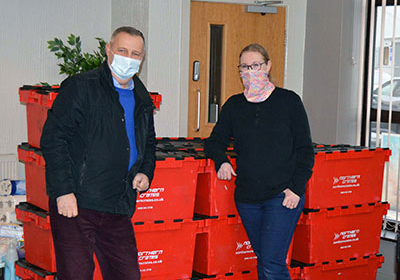 The Wade Hall Community Association also received toys and games collected as part of the appeal and a formal presentation will be made at a later date.
The Chorley and Leyland Group Chairman Peter Lockett, on seeing the very generous donations made by the many members in the group over the last four weeks, went on to say: "This has been a year of many challenges for all of us, many in our community have suffered greatly. Giving is at the heart of Freemasonry and we are more than ever serving people in our community who are less fortunate than many of us, especially this Christmas.
I just hope that we have been able to bring some joy to children in our area and to give support to their parents who have suffered much hardship in this most unusual year where so many things have changed and been affected by this terrible pandemic.
There is light at the end of the tunnel, and let us hope that we have brought light and some relief to our fellow citizens. I wish everyone in our community a happy Christmas, and on behalf of those families we will never meet, I thank everyone for all the hours spent in making this whole project, supporting the people of Chorley and Leyland, such a great success."