What an honour it was for those who attended the Goodwill Lodge No 3896 centenary; an honour only made possible by the members of Goodwill Lodge, past and present.  Who in 1919 could have imagined that the seeds a few men planted when forming Goodwill Lodge during the difficult times after World War One would grow and bear fruit over 100 years later?  Goodwill Lodge is exemplary in that it is an example of an active lodge bolstered by the enthusiasm of its current members, as well as those who came and went before them.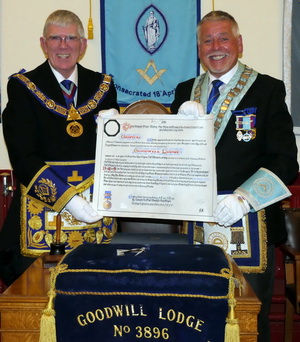 The lodge was honoured by the presence of the Provincial Grand Master Tony Harrison, who was joined by the Assistant Provincial Grand Master Kevin Poynton. Goodwill Lodge's WM Bob Williams welcomed Tony and offered him the gavel, which he gladly accepted.  Tony then appointed his officers and once they had taken their positions, he opened Provincial Grand Lodge. Tony then addressed the lodge and explained the purpose of the meeting before presenting the Centenary Warrant and Centenary Jewels to Bob Williams.
An oration by the Provincial Grand Chaplin Godfrey Hirst followed.  Godfrey spoke about the meaning of goodwill, often referring to various elements of the Goodwill Lodge emblem.  This was of great interest to everyone present and when Godfrey had finished Tony thanked him for his fascinating oration.
Next the Provincial Grand Director of Ceremonies escorted John Alderson (the Goodwill Lodge secretary) to Tony, who surprised John and the brethren present when he deservingly appointed him to a Past Provincial Junior Grand Warden in recognition of the many years of service that he has given to the lodge.  This was followed by a re-dedication prayer by the Provincial Chaplain before the Provincial Grand Lodge was closed and the National Anthem sung.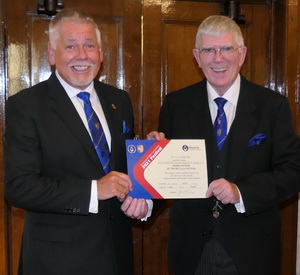 The ceremony now being completed, Bob had the privilege to present Tony with a cheque for the Masonic Charitable Foundation 2021 for £3,896. That figure being the Goodwill Lodge Number 3896, a fitting tribute to mark 100 years.
The total MCF 2021 donations from Goodwill Lodge was now over £4,500 and this gained the lodge Grand Patronage status for which Tony presented Bob with a Grand Patron of the MCF 2021 Festival Certificate.  In addition, Bob was pleased to present cheques for another £1,500 which was donated on the night to five local non-Masonic charities, together with £100 for the Widnes Masonic Hall.
After closing the lodge in prayer and harmony everyone retired to the bar for a spot of rehydration and conversation before adjourning to the main dining hall for the festive board.
As with all festive boards many toasts are made and responded to.  Kevin proposed a toast to Tony in which he commented that it was a delight to see a lodge in such good spirit.  He also went on to state that the Province of West Lancashire is the largest in the land and that the Provincial Grand Master is held in high regarded across the province.
Tony, in responding to Kevin's toast thanked everyone involved for making it such a wonderful evening.  John Alderson's well-deserved promotion was also mentioned as were other people who had helped make the celebration so special.

A few interesting statistics were then given, such as 44 per cent of members in the West Lancashire Province were now in the Royal Arch; now that was food for thought.  A key message that was emphasized in Tony's response was how important it was to enjoy one's Freemasonry. Tony finished his response by once again thanking everyone for the friendship and warm welcome that he and his Provincial team had received.  Tony then proposed a toast to the health of the lodge, to which Bob Williams responded.
Bob rightly acknowledge the privilege of having Tony and his Provincial team attending and presiding over such a wonderful ceremony.  Many people were thanked during Bob's response including those visitors who had travelled a long way for the occasion especially the three members of another Goodwill Lodge who had travelled all the way from Essex!
When describing his lodge, Bob was pleased to inform everyone that Goodwill Lodge had seven Master Masons and an Entered Apprentice, which bodes well for the future.  He was also keen to state that Goodwill Lodge would not be resting on its laurels. The lodge was in a healthy position due to some very experienced brethren within the lodge who are more than happy to share their wisdom and knowledge with the newer members.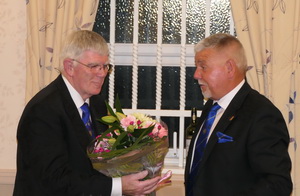 In closing, Bob restated Tony's mantra that everyone should enjoy their Freemasonry and admitted that his increased use of Paracetamol particularly following a visit to a lodge installation was a testament to how much he enjoyed his participation within the fraternity!  That comment of Bob's leads us nicely onto the festive board meal that followed.
Wine was naturally served with the meal. The starter was black pudding topped with cheese and garnished with salad.  The main course was chicken in white wine sauce, accompanied by seasoned vegetables and potatoes.  There were assorted desserts, cheese and biscuits followed by tea or coffee with dinner mints.  No one was in a rush to finish; it was such a pleasant atmosphere.
In closing, flowers were presented to Tony and also to Kevin Poynton who graciously accepted them before making their exit with their Provincial team.
On leaving everyone was presented with a celebration whisky glass engraved with the name of Goodwill Lodge and the emblem, together with the two important dates, namely 1919 and 2019.
Everyone went home happy having been able to share in such a wonderful celebration and hopefully the whisky glass mementoes will be put to good use for many years to come!