After 10 years of proclamations, it came as a welcomed relief for the Lodge of Faith No 484, one of the oldest lodges in the Wigan Group, to finally have a full Installation ceremony.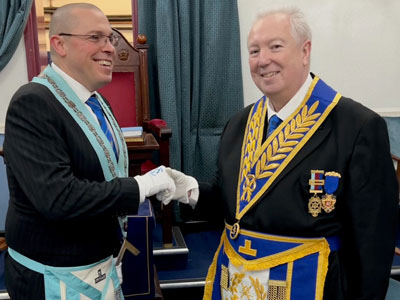 Installing master Alf Short ensured that there could be no doubt that the master elect, Benjamin Pevitt, was installed into the chair of King Solomon in the finest possible manner. Thanks to COVID, Alf had fulfilled the position of master for three years and was definitely looking forward to retirement!
The ceremony was conducted in excellent form to the enjoyment of the principal guest John Murphy, Mersey Valley Group Chairman, and it was patently obvious that a great deal of work had been done beforehand which reflected in the quality of the evening.
Past masters were responsible for the major addresses, with John Murphy delivering a memorable address to the brethren of the lodge.
The newly appointed inner guard, Sam Ocran, was thrust into the limelight and delivered a splendid version of the second degree working tools.
A special mention is due to Evan Walsh, DC of the Lodge, who conducted the ceremony faultlessly, ably assisted by Alan Slater.
A lively festive board followed and no 'proclamation' was necessary to see that all involved had thoroughly enjoyed the evening.